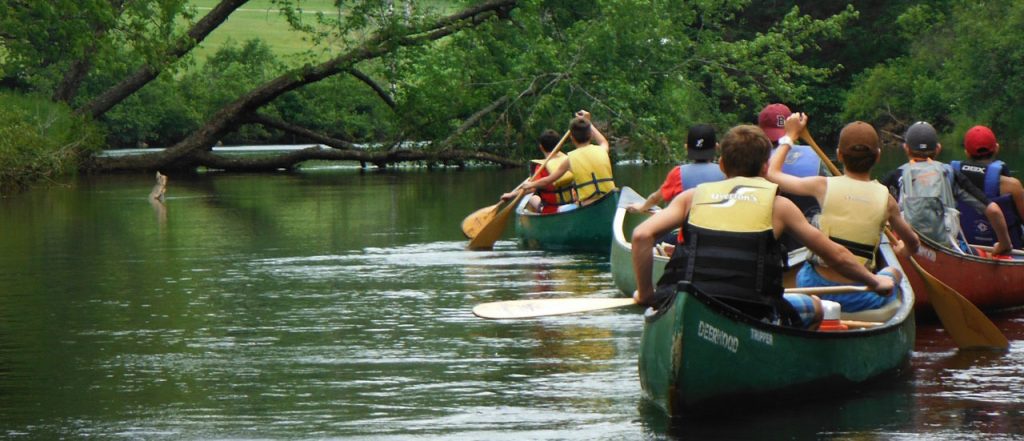 Dear LT- I can't thank you more for an amazing first summer at Deerwood! I enjoyed the chance to try things I never would thought of doing in my life: water skiing, woodshop, windsurfing. I am really proud of the fact that I could live away from home. My counselors helped me so much, and I couldn't have gotten through anything without their help. I am going to miss camp! Camp was one of the best experiences of my life! Hopefully, I will see you next summer.  Camper 2021
Thank you for an amazing summer at Deerwood! I really enjoyed being there. I especially loved the chance to try new things like water skiing and forge. I learned that I could stay away from home. My counselors were awesome. I know we were able to be there partly because of gifts from other people, and I am grateful for that. I'm going to miss camp. Hopefully, I will see you next summer.  Camper 2021
"More than any other experience, Camp is where I learned who I was and what I can do"
– Dave Schowalter – Deerwood Foundation, Past Board President
David Levy Jr. – New York City 

Camper 2017, CIT 2018 and JC 2019

Usually my summers were just an endless loop of playing games, eating and sleeping.  I would rarely go out unless it was Sunday.  Until 2017 most of my summers were nothing to get excited about.  After my first year at Deerwood my eyes opened on how different my life at home was.  Living in the White Mountains allowed me to reach out and gain a broader outlook on what is possible.  With thanks to the Deerwood Foundation I was able to be a part of the greatest place in the world.  Being able to be of use to Deerwood as a Junior Counselor this past summer has been my goal ever since my first year as a camper.  Being a part of such a wonderful community is something I'll treasure for the rest of my life.  I will never forget it!

Eduardo Interiano – Immokalee, Florida

Camper 2017, 2018 and CIT 2019

Camp Deerwood is a place that I'll never forget.  So-far it's made three of my summers the best summers of my life!  Not only mine, but also many first-time campers.  I'd like to talk about my C.I.T. year (2019) where I increased some of my skill levels such as Communication, Responsibility and Leadership.  In my opinion communication plays a big role in Camp.  Being able to speak with other campers and ask them "what did you do throughout the day" or "what activities do they plan on doing", help make a first-year camper feel welcomed and secure.  For them to know that a fellow camper is interested, and cares goes a long way to make a camper feel good.

In addition, I'd like to speak about Responsibility and Leadership.  These two traits are important for being a counselor.  For example, I remember I was at mountain biking and a first-year camper approached me and said "How do you pass first class?  The counselor was busy with another camper, so I decided to take action and go through the whole first-class requirements with him.  As the end of the day the camper passed the class and I felt a tremendous sense of accomplishment.  My C.I.T. year was a most rewarding experience as I was able to give campers one of best summers of their lives.  This just shows how beautiful a place Deerwood is.  Once a boy comes here it's hard to forget the experience.
" Visiting Camp Deerwood this past summer was truly a delight. My flights were filled with chaos such as experiencing a lightning strike, lost luggage and needing to refuel in another state, but arriving at Squam Lake was worth the trip.  Biff and Henry showed us the welcoming spirit of Camp Deerwood as we arrived on campus.  It is one thing to hear about Camp from former students but experiencing it in person was another story.  Everyone I met, from the nurses to cooks, was excited to share their role in making Camp an enriching experience for students.

As I boarded my flight the following morning, I felt confident that this was a great experience for our students to broaden their view of the world.  When I returned for pick-up both of our students had so many stories about their camp adventures to share.  This was a huge difference from our initial trip to Deerwood.  The change in our shyest camper was amazing to see because there was something different about the way he carried himself.  We said our goodbyes to the Camp counselors at the boarding gate with high-five and farewell wishes.  Our return to Florida was bittersweet, but we were excited to share all the wonderful experiences we had a Camp Deerwood."

Maria Plata
Career and Internship Coordinator
The Immokalee Foundation
"I just wanted to write this letter that I am so grateful that I got the opportunity to come to Deerwood.  I truly enjoyed camp.  I hope that I can come back to enjoy many more summers at Camp. If I do not come back, the memories that I have will stay with me forever. "

Sincerely (Camper during summer of 2018)
Oh! My! What a wonderful experience my son had at his first year at Camp. From the generosity of the Foundation, the staff and the Thomsens I am forever grateful. I still get goosebumps on all he accomplished and his personal growth. He just loved it. Of course, he can not stop talking about it. Once again, thank you. We hope he will have the chance to attend again. And you can be assured as you gave to him he will give back one day two-fold.
To see (my son) poised, ready to dive into the deep waters for the relay race, was nothing short of a miracle to us. That young man could not swim a stroke this time last year. But the best part of the that experience was seeing the swim coach squatting down, speaking to him privately at the end of the race. That's what Deerwood is about: a coach who keeps on coaching after the end of the final race of the season. With grateful hearts we thank everyone at Deerwood.
Thank you so much for allowing me to come to Camp Deerwood. Without the scholarship I wouldn't have been able to come. The camp was such a big important part of my summer. It was definitely an unforgettable experience. I love the outdoors so being in them every day doing things I love like rock climbing and kayaking was awesome. I also made so many new friends from lots of different places. Thank you so much!
…my son has been talking on end about the Tree Talks and Chapels every bit as much as he is recounting a day in the forge, Clarence's great food, ping pong with his new best buds…He has come away from his 3.5 weeks there with valuable life skills, increased respect for others, relationship confidence, a subtle young boy swagger, an awareness of the world, a hunger for more…
Several times over Parents' Weekend I had tears in my eyes just beholding the community and brotherhood I observed. Every person I had a chance to speak with and interact with was exceptional, every knowing nod the boys exchanged with each other was full of recognition and respect, every wide smile – genuine, every burst of laughter – profound. I have never seen anything quite like it. It gave me chills just knowing that was what had enveloped my son for the past weeks. I almost felt guilty taking him away from it all when it was time to go home.